Shops and merchants have been around for hundreds of years. But, for the most part, retail was local. You might walk to a store or even take your horse and buggy "into town" to get supplies. But that was destined to change with the opening of the west.
Retail Innovation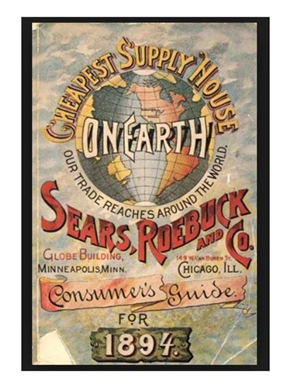 In 1862 the U.S. Congress passed the Homestead Act and triggered a massive movement of households to "the West."
The building of the Transcontinental Railroad from 1863 to 1869 made it easier to transport manufactured goods from the east coast to the west and, along with help from the U.S. Postal Service ("rural free" delivery and cheap postage for catalogs) the time was right for a retail innovation – the catalog.
And the leader of the pack was a fellow by the name of Sears.
1894 catalog cover: "Cheapest supply house on earth" and "We can't afford to lose a customer."
1896: He launches a spring and fall catalog.
1903: He shakes up the retain world with "your money back if you are not satisfied."
1905: Actual wallpaper samples and swatches of cloth for men's suits are included in the catalog. 
For the next 90 years it got bigger and bigger and bigger …… until ….
1993: the general catalog is discontinued. We (the public) don't appreciate catalogs – it seems we want to go to the mall.
1994: Netscape (the first web browser) was released to the public.
1995: Amazon started selling books. (But don't worry, they only sell books.)
Oops
Lesson:
No matter how good you are you may be taken by surprise by the future if you ignore it. Sometimes the future comes fast; sometimes not-so-fast. But it just keeps coming.
Application:
Name three things that could obsolete your organization (or your career.) Now, look for clues and keep a notebook of warning signs. Discuss them with your team or your life-partner. Every organization could become the latest version of Sears. Oh, it could happen to you as well.