Here is this week's mini-history for you education and entertainement. I hope you find it useful.
A crash
The Transcontinental and Western Air flight was a Fokker F.10 Trimotor enroute from Kansas City to Los Angeles on March 31, 1931. On the first leg of the flight to Wichita, the airplane crashed and all eight on board died, including famed football coach Knute Rockne.
The wings of Fokker Trimotors were manufactured out of wood laminate and moisture had leaked into the interior of one wing over a period, weakening the glue bonding the structure. One spar finally failed, and the wing became unstable. The demand for a safer, all-metal aircraft lead the government to demand improvements.
Boeing developed the Boeing 247 for United and Douglas produced the Douglas Commercial (DC) for American. Their earlier aircraft, the DC-2, was too small and was replaced by the DC-3. American inaugurated passenger service on June 26, 1936, with flights from Newark and Chicago.
The DC-3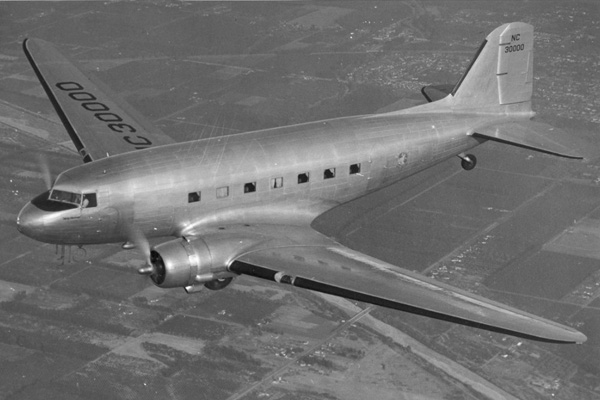 The DC-3 was a marvel of aviation design. It could cruise at an amazing 207 mph and had a range of 1,500 miles, carrying 21 to 32 passengers in (relatively) quiet comfort. The base price of a new DC-3 in 1936 was around $60,000–$80,000. Truly amazing.
Until the DC-3, air travel from New York to Los Angeles required 25 hours, more than one airline, at least two changes of planes and as many as 15 stops. Now, a single plane could cross the country, usually stopping only to refuel.
The 1938 initial coast-to-coast American Airlines flight left Newark Airport and arrived in Glendale, CA on time. And it took less than 19 hours. Wow! Even more exciting is that they only had to stop three times to refuel.
Implications
Technology + comfort + good food (a whole lot better than today!) brough the airline industry fame and (sometimes) fortune. Businesspeople could now envision a national business. Wealthy Easterners could visit the wonders of California. Distance and time took on new meanings. Travel became an "event" unto itself.
Lessons?
The unintended consequences of a new technology often go beyond the vision of the designers. I wonder about the unforeseen consequences of:
Cryptocurrency
nRNA
Machine learning
Fusion reactors
Protein folding
Quantum computing
Remember, the lovers of a new technology often overestimate its arrival while the deniers often underestimate its arrival. All we know for sure is that some technology will surprise us again.
By the way, it takes under six hours to fly non-stop from NY to LA today.