We posted COVID, STRATEGY, AND WHAT WE KNOW FOR SURE a couple of weeks ago. Here are some further comments and observations about the third "known."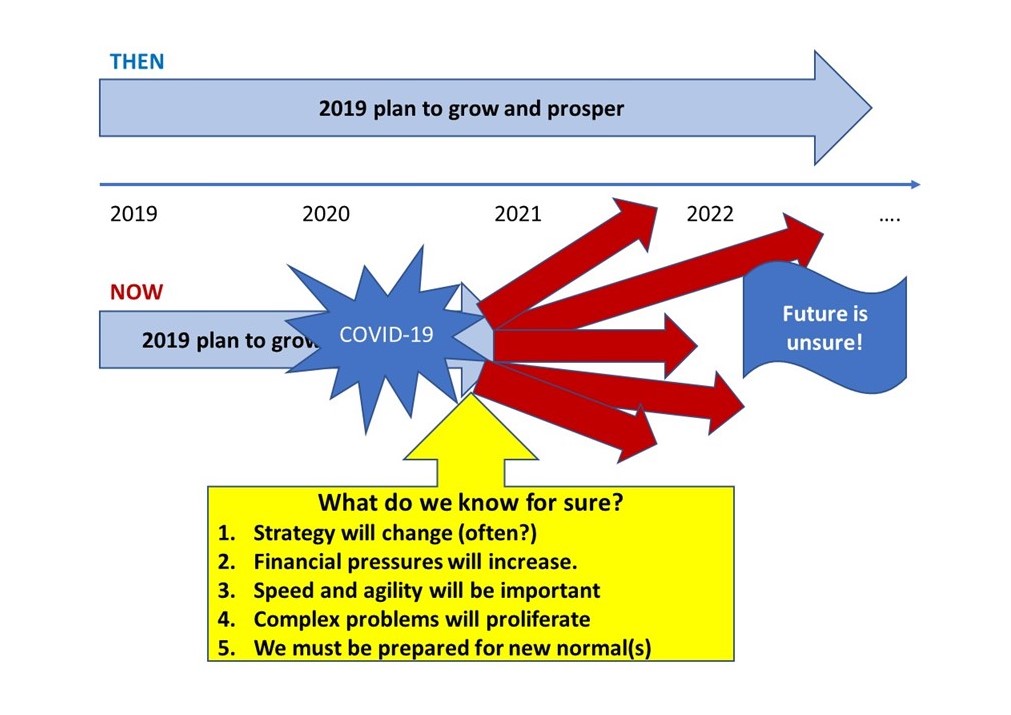 Gee, about a year ago, things were simple. Put together a good strategy and ride it into the future. Sweet!
BAM! COVID-19! >>>>> Move fast enough or become irrelevant.
What do you do when caught in an ambush? You move! And "which way" is a matter of judgment and luck. You can't take the time to run a detailed analysis of options — you don't have any time to spare.
What don't you do when caught in an ambush? Stand still. If you do you'll be dead.
You may not like the options for change open to you but you've been caught in the Covid ambush and have to act accordingly. You do know that something has to change. Or, more likely, many things have to change simultaneously.
Maybe you can fall back on your experience; but unless you're a crisis expert you don't have much relevant experience. Maybe you can convene a group of experts; but that takes time you don't have.
What to do? Well, let me suggest something scary and radical. Describe the situation to your managers and let them tell you what to change. They have their "boots on the ground" so they see the real world. And, they are usually smarter than you think. They likely see options you don't see and will know how to implement them without calling the consultants.
Will they (and you) make mistakes? Heck yes. But, if you are also agile you'll recover from those mistakes and keep moving.
Remember, standing still (like waiting for a bailout) is NOT AN OPTION.